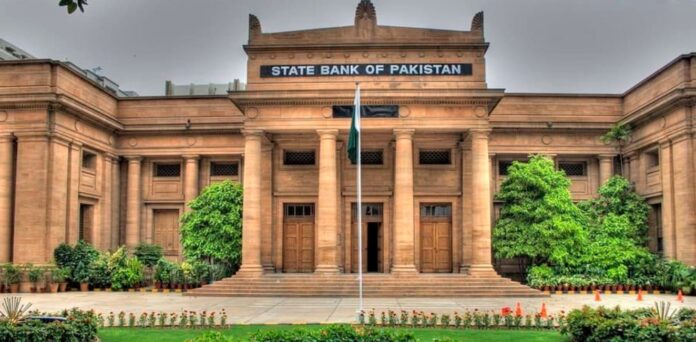 Recently, the State Bank of Pakistan (SBP) released the Payment System Review based on the third quarter of Fiscal Year 2022. The central bank's report illustrates the current state of the payments landscape in Pakistan. Moreover, a total of 9.1 million e-commerce transactions were conducted which amounted to Rs. 27 billion during the quarter. Showing an impressive growth of 62.8% and 77.1% in both e-commerce transactions' volume and value. In terms of shares, the Payment System Review states that the e-banking and paper-based transactions had a share of 80.8% and 19.0% respectively of the total number of transactions.
E-Banking in Pakistan Has Grown by 2.6% in Volume and 6.5% in Value
The State Bank of Pakistan has been constantly working to promote digital payments adaptation in Pakistan which has led e-banking to grow by 2.6% in volume and 6.5% in value. This increase in e-banking was mainly prompted by 7.6 million internet banking users which recorded a growth of 10.6% on a QoQ basis. Whereas, PRISM transactions had only 0.2% share. Focusing on value, PRISM transactions had the highest share of 65.5 % in Q3-FY22 while e-banking and paper-based had 14.9% and 19.5% respectively.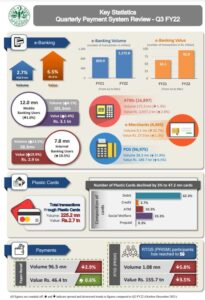 188 New ATMs Have Been Installed All Over the Country
Furthermore, commercial banks are expanding their digital ecosystem to further drive electronic payments. According to the Payment System Review, 188 new ATMs were installed across the country by the industry reaching a total of 16,897 as of Q3-FY22. The volume of transactions using ATM saw a slight decrease of -1.4% while value recorded an increase of 3.1% on a QoQ basis.
38M Transactions Have Been Conducted Via POS Machines: Payment System Review 
The retail sector of Pakistan also displayed promising growth in the area of POS deployment. The number of POS machines rose to 96,975 which is 5.2% higher than the previous quarter. A total of 38.3 million transactions worth PKR 189.7 billion were conducted via POS machines posting a QoQ growth of 18.0% and 6.1% in volume and value respectively. The number of e-commerce merchants also reached 4,445 which amounts to a 12.0% increase on a QoQ basis, as reported by the Payment System Review.
Read more: SBP Expresses Displeasure Over Borrowing Rates in a Private Meeting with Banks