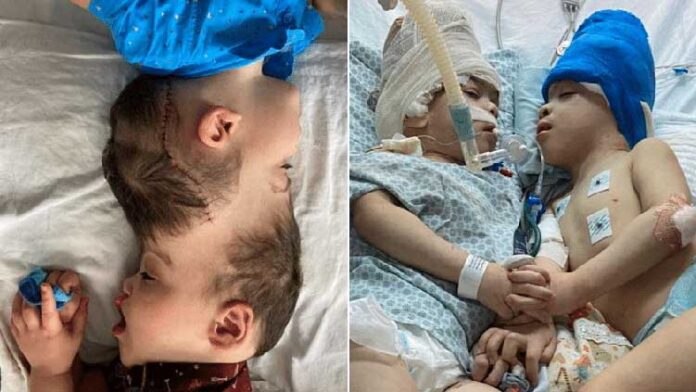 A team of Brazilian doctors has successfully separated the co-joint twins via virtual reality surgery. The twins Arthur and Bernardo Lima were born in 2018 as craniopagus twins, which is an extremely rare condition in which the siblings are fused at the cranium. Since then, the twins had seven surgeries all in all, and the final virtual reality surgery alone lasted for a total of more than 27 hours.
Virtual Reality Surgery – The Most Complex Separation to Date
The London-based medical charity, Gemini Untwined, has helped carry out the procedure, which is described as the most challenging and complex separation to date. Noor ul Owase Jeelani, the lead surgeon, said that the medical teams spent months trialing techniques using virtual reality projections of the twins, based on CT and MRI scans. He further added that for the first time, surgeons in separate countries wore headsets and operated in the same "virtual reality room" together.
The neurosurgeon, Gabriel Mufarrej of the Paulo Niemeyer State Brain Institute (IECPN), said; "We're very satisfied with the outcome because no one else believed in this surgery at first, but we always believed there was a chance." Noor ul Owase described virtual reality surgery as 'space-age stuff,' he said; "You can imagine how reassuring that is for the surgeons… To do it in virtual reality was just really man-on-Mars stuff."
Life Changing Experience
Dr. Jeelani has previously accompanied six separation procedures from Pakistan, Sudan, Israel, and Turkey. But, according to him, it was the 'hardest operation of his time,' the lead surgeon mentioned that he was absolutely shattered after the 27-hour operation, where he took only four 15-minute breaks for food and water, but it was wonderful to see the family feeling over the moon afterward. The medical staff has also released a video where little Arthur was seen reaching out to touch his brother's hand.
Read more: Robot Performs First Laparoscopic Surgery without Human Assistance