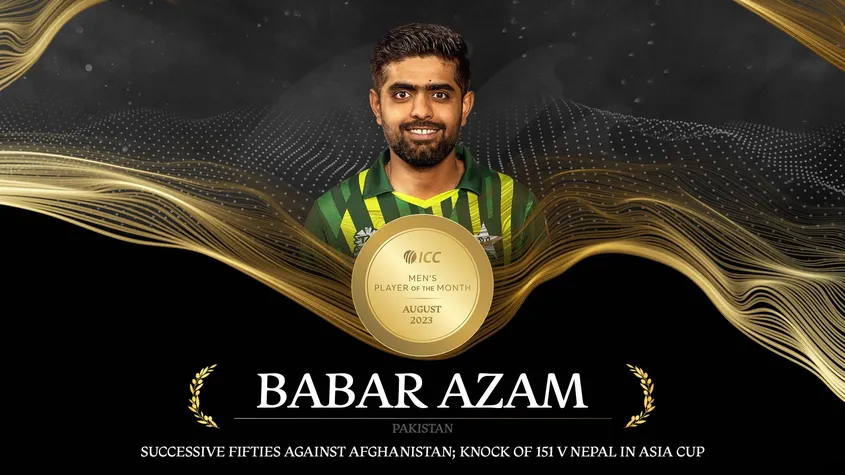 Babar Azam, the dynamic captain of the Pakistan cricket team, has been crowned the ICC Men's Player of the Month for August 2023. Holding the coveted top spot in the MRF Tyres ICC Men's ODI Player Rankings, Babar's extraordinary performances throughout the month left cricket enthusiasts and experts alike in awe.
Congratulations @babarazam258 on being named the ICC Men's Player of the Month for August 2023! ???? https://t.co/bN8Ve0ufAV pic.twitter.com/G5XdhsfW6F

— Pakistan Cricket (@TheRealPCB) September 12, 2023
A Month of Outstanding Performances
Throughout August, Babar Azam showcased his cricketing prowess, cementing his reputation as one of the finest batters in the world. Despite facing a rare setback in the first ODI against Afghanistan, where he was dismissed without scoring, Babar swiftly rebounded with two consecutive fifties. The pinnacle of his performance came in the second ODI, where he partnered with Imam-ul-Haq to forge a vital 118-run stand, setting the stage for a thrilling last-over showdown. Babar's contribution of 53 runs was instrumental in Pakistan's nail-biting victory.
Babar Azam Records Galore
Babar's exceptional form extended into the prestigious Asia Cup. In the opening match against Nepal, he delivered a masterful performance by amassing 151 runs off just 131 balls; this innings not only catapulted Pakistan to victory but also etched his name in the annals of cricket history. Babar Azam became the fastest player to reach 19 ODI centuries, joining the elite ranks of Pakistani cricketing legends like Javed Miandad and Saeed Anwar with 31 international centuries across all formats.
As he basks in the glory of this achievement, Babar Azam remains focused on the future. With the Asia Cup's climax approaching and the ICC Men's Cricket World Cup on the horizon, he is determined to bring joy and happiness to the millions of passionate cricket fans in Pakistan. The cricketing world eagerly awaits more stunning performances from this illustrious player, who has become a symbol of excellence in the sport.
Also read: Virat Kohli Hails Babar Azam as World's Top Batsman