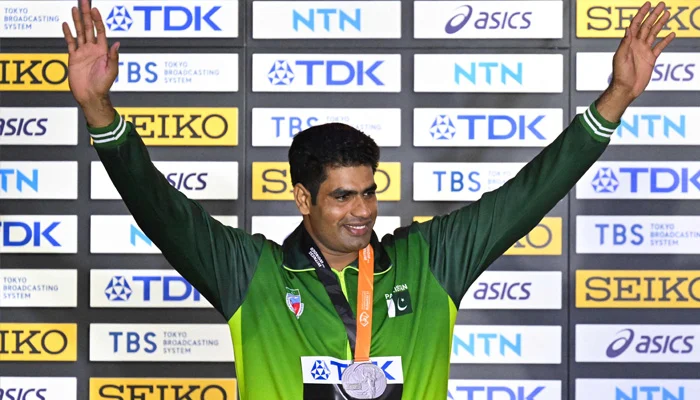 In a remarkable feat that etched his name in history, Pakistan's distinguished javelin thrower, Arshad Nadeem, clinched a silver medal at the World Athletics Championships. Breaking new ground for Pakistani athletics, Arshad's exceptional performance in the men's javelin throw final in Budapest, Hungary, marked a significant milestone for the nation. India's Neeraj Chopra was able to secure the gold medal with his best throw of 88.17 meters.
Arshad Nadeem Landmark Achievement in the Global Arena
Arshad Nadeem's journey to success culminated in a historic moment as he secured a silver medal at the World Athletics Championships. The event was held in Budapest, Hungary, and saw Arshad's awe-inspiring throw of 87.82 meters, solidifying his position as the first Pakistani athlete to claim a medal in this prestigious competition. This remarkable feat not only exemplifies his dedication and talent but also showcases the immense potential that Pakistani athletes hold on the global stage.
Triumph Amidst Competition and Challenges
Arshad Nadeem's silver medal-winning performance is a testament to his resilience and skill. His return to the international circuit after a year following fitness challenges highlights his determination to overcome obstacles and shine on a worldwide platform. The final showdown saw Arshad pitted against Olympic champion Neeraj Chopra of India, making it a captivating battle for supremacy. Despite a strong challenge from Chopra, Arshad's superb third throw of 87.82 meters secured his place in history.
The significance of Arshad's accomplishment extends beyond his personal victory. This success marks the first medal ever for Pakistan in the World Athletics Championships, inspiring a sense of national pride and reinvigorating the promotion of athletics within the country. Arshad's triumphant journey also underscores the critical role that discipline, training, and persistence play in shaping the future of Pakistani sports.
Also read: Islamic Solidarity Games: Arshad Nadeem Bags Gold Medal for Pakistan