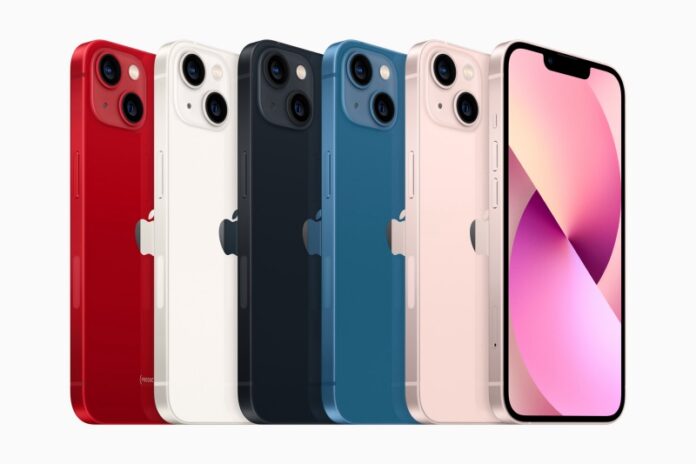 Apple announced the successor of the iPhone 12 after numerous speculations and leaks Apple iPhone 13 series is finally launched during a virtual event at Apple headquarters in Cupertino, California. The next generation of smartphones, Apple iPhone 13 is offered in four different variants; the iPhone 13, 13 Mini, 13 Pro and 13 Pro Max. It comes with a larger battery, a new A15 Bionic processor, a smaller notch and an abundance of new camera features.
Price and specifications of Apple iPhone 13 series
The iPhone 13 and 13 Mini gets an updated camera system. While all four models get an improved 12-megapixel main camera and a better ultrawide lens and sensor. The diagonally placed lens offers more room for a new sensor-based stabilization system.
In terms of size; the iPhone 13 and 13 Pro have a 6.1-inch screen, the iPhone 13 Mini has a 5.4-inch display, and the iPhone 13 Pro Max has a 6.7-inch display. The Pro models get a higher refresh rate, which makes animations and scrolling look smoother.
The customized hardware design in the iPhone 13 lineup features more 5G bands, allowing it to work in more places on 5G for greater coverage and performance.6 By the end of 2021, support for 5G on iPhone will double around the globe, with over 200 carriers worldwide in 60 countries and regions
Read more: iOS 15 features leaked: Apple to introduce redesigned Control Center for iPhones and iPad
Pricing of iPhone 13 series in USD
⇒ 128GB ($829)
⇒256 GB ($929)
⇒512 GB ($1,128)
⇒1 TB (NA)
⇒128 GB ($729)
⇒256 GB ($829)
⇒512 GB ($1,029)
⇒1 TB (NA)
⇒ 128 GB ($999)
⇒ 256 GB ($1,099)
⇒ 512 GB ($1,299)
⇒ 1 TB ($1,499)
⇒ 128 GB ($1,099)
⇒ 256 GB ($1,199)
⇒ 512 GB ($1,399)
⇒ 1 TB ($1,599)
All four models of the iPhone 13 are available to order starting Friday, Sept. 17 and will ship Friday, Sept. 24. The base model of the iPhone 13 and 13 Mini is available in five colours: pink, blue, midnight black, starlight white and Product Red.
Apple Watch Series 7
The tech giant also unveiled Apple Watch Series 7, with a larger display and redesigned look. According to Apple, the updated watch boasts an 18-hour battery life and charges 33% faster than the Series 6. It's available in multiple colours including; midnight, starlight, green and red. The Series 7 Apple Watch is priced at $399.