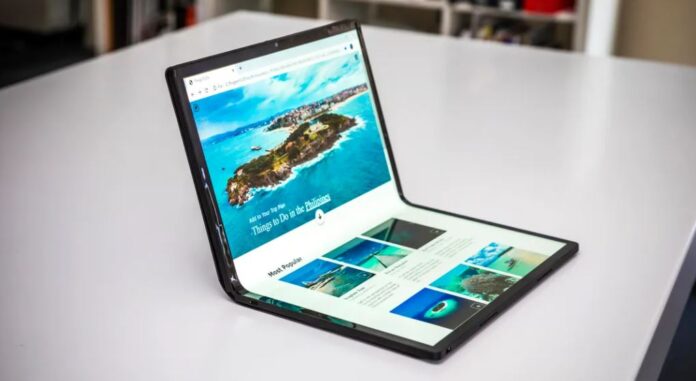 Earlier this year, LG Display unveiled a 17" foldable OLED panel at CES and it already has garnered known clients for its foldable laptop screens. The company is set to supply LG's OLED displays to Apple, who is working to develop a new panel that will be used in a foldable MacBook-iPad hybrid. The foldable laptop screens will use Ultra-Thin Glass (UTG) instead of polyamide. Apple is expected to reveal its first foldable smartphone next year and rumors claim that will support a stylus. 
The New Foldable Laptop Screens Will Support Both Touch and Stylus
The foldable laptop screens from LG will support a stylus as well – the panels LG is supplying to Lenovo and HP support both touch and stylus input. The HP one in particular measures 17" unfolded and 11" folded and it has 4K resolution. LG will reportedly manufacture 10,000 units of foldable laptop screens. It has already produced 20,000 units of the panel for Lenovo, which is 13.3" unfolded and 6.2" folded (with 2,048 x 1,536 px resolution). 
Furthermore, Apple will require a much higher volume than that, of course, so LG foldable laptop screens will need time to expand its production lines. It sounds like it will have plenty of time, Display Supply Chain Consultants previously predicted that the foldable MacBook-iPad hybrid may not appear until 2025. Previously, DSCC reported that Apple "does not appear to be in a hurry to enter the foldable smartphone market." For a future foldable MacBook/iPad, Apple just appeared in DSCC's roadmap for foldable notebooks. 
Apple May Launch its Foldable Design Laptops After 2025
Here's what DSCC analyst Ross Young wrote a couple of months ago, "We hear there is interest at the largest size yet, around 20.x". This size could create a new category for Apple and would result in a true dual-use product, a notebook with a full-size keyboard when folded and for use as a monitor when not folded and used with an external keyboard. It may also allow for UHD/4K resolution or even higher at that size. The time frame is likely later than 2025 though, it could be 2026 or 2027."
Read more: Apple Plans to Roll Out Foldable iPad/Mac Hybrid by 2026
Source: GSMARENA