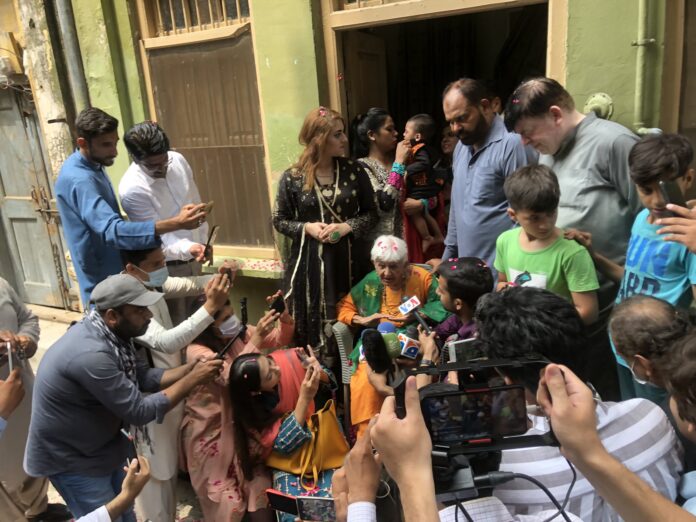 A 90-year-old woman, Reena Verma, crossed the Wagah-Attari border to reach Pakistan to visit her ancestral home in Rawalpindi. Sharing a video on social media, Varma said that her family was living on the Devi College Road in Rawalpindi and she was only 15 years old when her family moved to India during the Partition in 1947.
92 year old Reena Verma returns to her ancestral home in #Rawalpindi after 75 years#India #Pakistan pic.twitter.com/GOUBResIOR

— AmbreenSikanderAhmad (@AmbreenS_Ahmad) July 20, 2022
Reena Verma was Beyond Ecstatic Visiting her Ancestral Home
Reena Verma received a very warm welcome from the people of her ancestral town and she was seen as extremely happy while visiting her old house. When she entered her house she took a good look at all the rooms and balcony. The 90-year-old Indian woman told that she used to stand on the balcony and hum when she was little, she also sang the same song to reminisce about her childhood.
Pain of separation frm place where you born. I wish, #India could show some grace & resolve the Kashmir dispute as per Mr. Nehru's promise at UN, live like good neighbor so we can visit each others country. Reena Verma Indian citizen at her ancestral house in #Rawalpindi pic.twitter.com/eUc0jmCKHx

— Zaman Bajwa (@ZamanBajwaaa) July 20, 2022
Expressing her gratitude, she said that I love Pakistan and I want to visit Pakistan again and again. She also mentioned that neighbors were considered members of the household and we would visit everyone's house, she further added that those were very good days, and she had no idea where those people, belonging to her neighborhood, are now.
Message of Unity
Appeal from 92 years old Indian lady to youth of #india & #Pakistan to live with harmony and peace. Reena Verma visited her birthplace in Rawalpindi for the first time after partition in 1947 #India #Pakistan #peace pic.twitter.com/l6ZHlXN53o

— 𒆜Ƥalaຮh पलाश𒆜 (@PALASH__07__) July 20, 2022
Talking to the media, Reena Verma, said that Indian and Pakistanis should avoid the hate and live peacefully. She mentioned that both countries have the same culture, values, traditions, and ethnicity, and even the people on both sides of the border are also the same. She further added that the people of Pakistan are very welcoming and she felt extremely good being in her ancestral home which has almost the same old structure built by her family before the partition.
Read more: Ghazi, Rahul, and a lost wallet: A story that reunited India and Pakistan