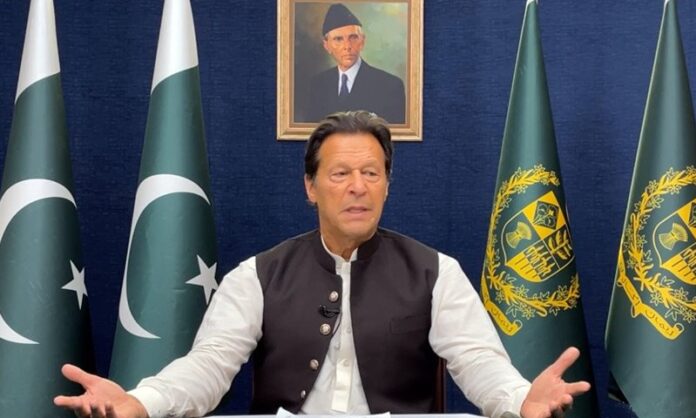 The social media trend "#امپورٹڈ_حکومت_نامنظور" which roughly translates to "Imported government, unacceptable," has become the most popular trend across all social media platforms. The trend is being used to condemn the "alleged regime change" in Pakistan.
عوام اپنی آزادی کا خود تحفظ کرتے ہیں۔

People, not institutions, are defenders of freedom and democracy. And people are rising against this installed puppet regime of sheer criminals.#امپورٹڈ_حکومت_نامنظور pic.twitter.com/SdTZxNBOII

— Zartaj Gul Wazir (@zartajgulwazir) April 12, 2022
#امپورٹڈ_حکومت_نامنظور
Pakistan's lawmakers on Saturday voted to oust Prime Minister Imran Khan from office in a motion of no confidence. The opposition parties were able to secure 174 votes in the 342-member National Assembly in support of the motion. This ended Khan's 44 months in power and, apparently, a monthlong political crisis that saw members of his Pakistan Tehreek-e-Insaf (PTI) party cross the aisle to the opposition, competing political rallies for and against the government, and legal battles.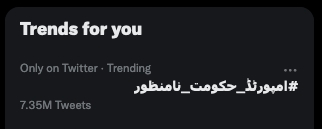 To protest against the current government, the key cabinet members pushed the hashtag on the platform that has become a top trend, and it is still sitting right on the 1st spot for the 7th consecutive day. The trend #امپورٹڈ_حکومت_نامنظور has crossed 7.35 million tweets at the time of writing. People are already claiming it a record-breaking trend that is also covered by top-notch international media outlets.
This is Pakistan standing up for its sovereignty! Are you watching America? #امپورٹڈ_حکومت_نامنظور pic.twitter.com/lyHvx7hlk3

— PTI (@PTIofficial) April 10, 2022
The source of motivation
The Hashtag #امپورٹڈ_حکومت_نامنظور has rallied Khan's supporters from across the world who came out in support of the freedom struggle from alleged American interference. Imran Khan said in his Twitter message; "I will not accept this imported government, I will take to the street…. Only people can bring me to power, and I will come back with the help of the people."
Can't wait to be in Karachiiiiiiiii again! Chairman PTI Imran Khan will address a grand Jalsa at Mazar-e-Quaid Karachi on coming Saturday 16th April after Isha prayer. We will insha'ALLAH relive memories of 25th Dec 2011 #MazarEQuaid #ImranKhanInKarachi #امپورٹڈ_حکومت_نامنظور pic.twitter.com/oEupBDkKBc

— Faisal Javed Khan (@FaisalJavedKhan) April 14, 2022
In recent weeks, Khan has talked about a threat letter and claimed that it was part of a foreign conspiracy to remove him from the office for not following an independent foreign policy. He said that during the meeting between the Pakistani ambassador and the US official, the latter complained that "I [Imran Khan] should not have visited [Russia]." He further mentioned; "It is so shameful for the 220 million people of Pakistan that a foreign official is ordering the sitting prime minister of the country through a third person, warning of severe consequences and alluring them of forgiveness if I [Imran Khan] leave the office."
Read more: New Government Withdraws its Decision to Raise Salaries of Government Employees
Source: Twitter Trends