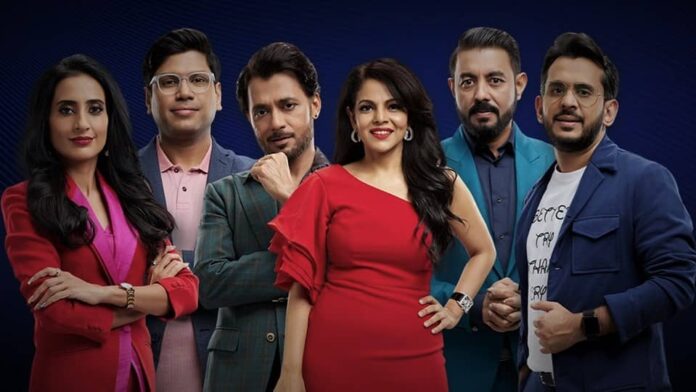 A viral LinkedIn post by Ankit Uttam, the best-selling author on Amazon, shows how businesses of Shark Tank India judges are posing huge losses, apart from Aman Gupta's company, which has been relatively profitable. "Shark Tank India has never worked for me as a show from its first season, unlike its US counterpart. In the US version of the show, every judge (Barbara Corcoran, Mark Cuban, Lori Greiner, Robert Herjavec, Daymond John, and Kevin O'Leary) is running businesses that actually turn a profit instead of riding on VC money or drowning in huge losses," wrote Ankit.
Some hard truths about Shark Tank India! How credible are the Sharks? pic.twitter.com/5zEUgtW5DB

— Shantanu (@shantanub) January 12, 2023
Breakdown of Businesses of Shark Tank India Judges
According to Ankit, the owner SUGAR Cosmetics, Vineta Singh, reported a loss of INR 75 crore in 2022, while the number was 21.2 in 2021. Likewise, Ghazal Alagh's Mamaearth has recently begun earning profit after suffering losses of Rs 1332 crore and Rs 428 crore in 2021 and 2020, respectively. The author said that Anupam Mittal's Shadi.com has no public data available, but his other ventures, like makaan.com and Mauj Mobile, flopped.
Peyush Bansal's Lenskart posted a consolidated loss of INR 102.3 Cr in FY22; moreover, the author also questioned Namita Thapar's place as a Shark as the businessman is not the founder of Emcura Pharma and it was her father who started the firm and continues to remain the CEO of the company. He said that only Aman Gupta's Boat is the only company that has been profitable since its inception.
Netizens Came to the Rescue
Fans of Shark Tank India came to defend the sharks. A user wrote; "The way people ridicule Namita Thapar because she inherited her father's business is prime example of casual sexism." Another user said; "Do you have the data for the judges in their early stages of US show? These people love to criticize and cry."
Comparing the US version with a developing nation. Alright. Now look at their ages and how old their businesses are. Mark Cuban is 64, the eldest for us is 45. Do you have the data for the judges in their early stages of US show?
These people love to criticize and cry. https://t.co/HuMWvfSAVN

— Culer (@Butwhy082511511) January 14, 2023
The way people ridicule Namita thapar beacuse she inherited her father's business is prime example of casual sexism..i never see such posts on Tata's,mahindra's and Ambani's ever.. when you are talking about numbers,then post numbers of Emcure also.

— Hasain Ahmed (@hasain_ahmed6) January 13, 2023
Also read: Down But Not Out: Flatheads Founder Penned a Heartfelt Note After his Shark Tank India 2 Pitch Went Downhill