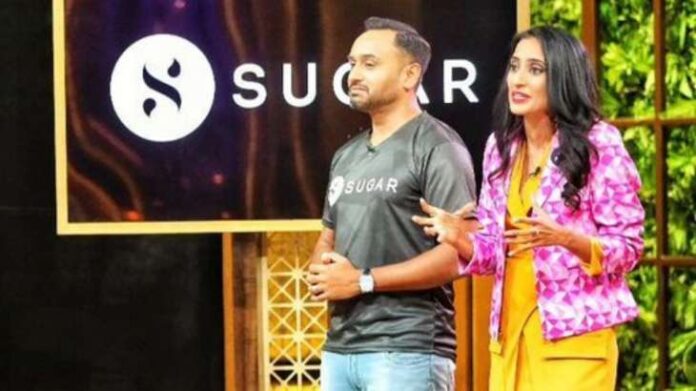 The finale of Shark Tank India season 2 witnessed the CEO of SUGAR Cosmetics, Vineeta Singh, pitching the business alongside her husband to her fellow judges on Shark Tank India. They presented their cosmetic brand, which had an ask of Rs 1 crore for 2% equity, and end up sealing one of the biggest all-shark deal of the season.
The SUGAR founders, Shark Vineeta Singh and Kaushik Mukherjee in the Tank! Tune in to rewatch their pitch.#SharkTankIndia season 2 streaming now on Sony LIV.#SharkTankIndiaSeason2 #SharkTankIndiaS2onSonyLIV pic.twitter.com/HdN0oOnbFI

— Shark Tank India (@sharktankindia) March 10, 2023
Vineeta Singh Ends Up Securing Rs.5 Crore Deal For Her Business
During her pitch, Vineeta talks about the vision behind creating SUGAR; she describes how the color cosmetics industry has 40% unbranded, unsafe, non-FDA products. In order to fulfill the need for a safe cosmetics brand, SUGAR Cosmetics was launched. Her husband revealed that they were initially planning to name the company 'Kickass Cosmetics'
They said that shared that after 2013 they couldn't land an investment as investors were of the view that there will always be arguments between a husband and wife which is not a good sign in the business. After a tough round of questioning, their pitch ended with an offer from all the other Sharks as they offered Rs 5 crore for 5 percent.
Being in the Shoes of the Shark Tank Participants
Singh, the judge of Shark Tank India for two consecutive seasons, said that standing there & pitching SUGAR in 2016 was a different level of scary & fun! In a tweet, she said; "Even though I think about myself in the pitcher's shoes during every sharktankindia pitch, standing there & pitching Sugar Cosmetics from 2016 was a different level of scary & fun! As Peyush reminded me, expected no mercy!"
Even though I think about myself in the pitcher's shoes during every @sharktankindia pitch, standing there & pitching @trySUGAR from 2016 was different level of scary & fun! As Peyush reminded me, expected no mercy!

Watch @kaushikmkj & me in the finale episode at 10pm tonight! pic.twitter.com/jm2e8KF0Tw

— Vineeta Singh (@vineetasng) March 10, 2023