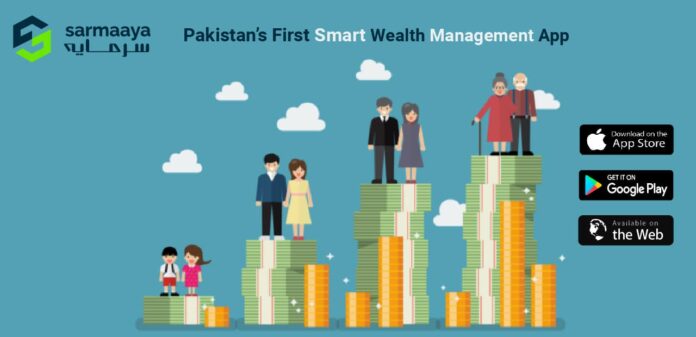 Want to invest your hard-earned money in the right place for profits? Sarmaaya.pk here is the first of its kind, which provides services that lets you understand your financials and make educated investment decisions. It's wealth management tracking financial literacy platform through which you can without any difficulty track your investments while simultaneously educate yourself about the basics of investing in different markets.
Sarmaaya.pk is created by abcData Pvt. Ltd., an up-and-coming Pakistani data management company. "There are less than 250,000 people in Pakistan who have a capital markets account of any kind, according to data from the Central Depository Company (CDC), which is 0.11% of the total population," shares Laeeq Ahmad, Founder & CEO of Sarmaaya.pk and abcData Pvt. Ltd.
"Our figures are worse than even Bangladesh that has 0.8% involvement in the total population. One of the major reasons is the lack of financial awareness. The idea of Sarmaaya.pk is to provide a platform where not only do we spread awareness through our content but also let people track their investment," he comments.
"At Sarmaaya, we have unified all 'liquid assets' i.e. stocks, mutual funds, forex, and gold which can instantly be turned into cash. That's one of the key reasons why most people invest in these assets; they're just like cash that's never far away and can be brought back home without delay. And unlike cash, these assets are gaining value over time. You can not only track the progress of each asset on the portal but also track your investments in these assets in real-time," shares Laeeq.
"Because of inflation, any currency is losing its value. To keep the value of your money, you need to convert it into an asset by managing its risk. Pakistan's middle-class is projected to grow to 122 million by 2025. We want people to understand the financial potential," shares Laeeq.
Besides investment tracking, Sarmaaya.pk is also promoting financial literacy in Pakistan through informative content on its platform. It features expert-written pieces to help a common man understand the different avenues for investment to multiply income and secure the future.
"Sarmaaya is a trailblazing fin-tech solution that could potentially change the investment landscape of Pakistan. Today, especially in the COVID-hit economy, a common Pakistani is more financially challenged than before. So it's high time Pakistanis became a little more creative in terms of investing their savings," Laeeq stresses. According to him, the best time to invest was 20 years ago, and the next best is now.
Image Source: Pro Pakistani
Read more: HEC Launches Online Degree Attestation and Verification System