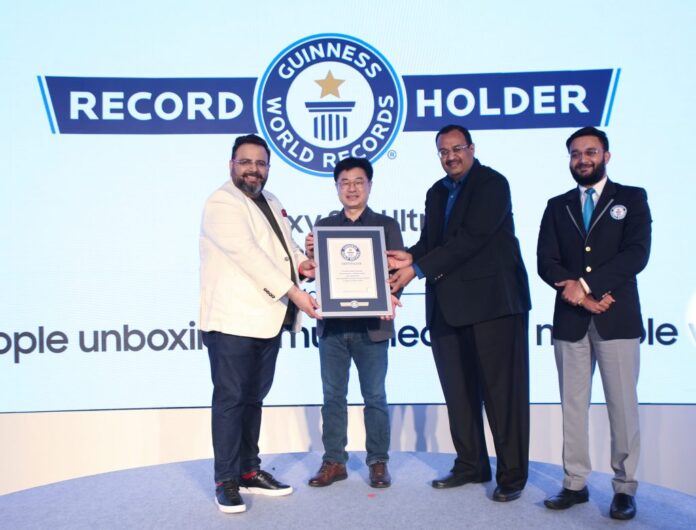 In the recent news, Samsung had hosted an #EpicUnboxing event with the Samsung Galaxy S22 Ultra. This event took place on March 5 and witnessed incredible success since it involved over 1820 customers who pre-booked the Samsung Galaxy S22 Ultra across 17 different cities, which set a new Guinness World Record.
It's official! Most people unboxing simultaneously – multiple venues. The #GalaxyS22 Ultra has set a new GUINNESS WORLD RECORDSᵀᴹ. @GWR
#OfficiallyAmazing #guinnessworldrecords #EpicUnboxing #Samsung

— Samsung India (@SamsungIndia) March 5, 2022
Limited-Edition Samsung Boxes Were Designed for Guinness World Record Attempt 
This Guinness World Record was set for the greatest number of people unboxing simultaneously at numerous venues. Tech giant, Samsung had recently broken another record, where its Galaxy S22 series became the most pre-booked Samsung device with over 100,000 orders in just 72 hours. The #EpicUnboxing event was also the firm's way of thanking its early buying clients by handing out limited-edition boxes designed especially for this Guinness World Record attempt.
Furthermore, in the limited-edition box, clients are treated to a Galaxy Watch4 smartwatch and another surprise gift of Galaxy Buds2 TWS earbuds. Moreover, the limited-edition Samsung Galaxy S22 Ultra box also contains a special thank you note in seed paper as well in India. Notably, the Guinness World Record arrives ahead of the Galaxy S22 series' launch in India, which is set to officially hit stores on March 11.
An #EpicUnboxing like never before. #GalaxyS22 Ultra #Samsung pic.twitter.com/1popjMSK0J

— Samsung India (@SamsungIndia) March 5, 2022
According to Aditya Babbar, Senior Director at Samsung, "It is indeed a big day for us and I'm extremely proud to be a part of the team which managed this record-breaking event across 17 cities. I am thankful to all our consumers and epic fans who came together to make this a truly historic day for Samsung. With #EpicUnboxing we have officially entered the Guinness World Records and we are delighted that we could celebrate this epic achievement with our fans."
1820 People Participated in the Unboxing Event of Samsung Galaxy S22 Ultra 
In addition to this, Swapnil Dangarikar, Official Adjudicator, Guinness World Record added, "It is my pleasure to announce that Samsung India Electronics Private Limited has set a new record for the 'Most people unboxing simultaneously – multiple venues' with 1820 successful participants. This fabulous event was organized across 19 venues and the delighted participants got their phones and became part of a record. A never been done before the attempt, I congratulate Samsung on becoming Officially Amazing!"
Read more: Hackers Steal Samsung Galaxy's Source Code