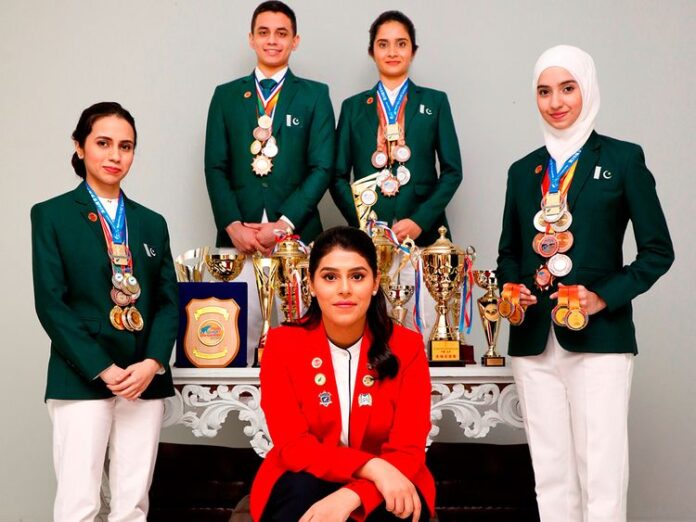 Young Pakistani girl, Emma Alam, broke multiple world records as she won the 29th World Memory Championship global finals, beating over 300 competitors from all across the world.
Participants from various countries such as Canada, China, United Kingdom, South Korea, India, Vietnam, United States, Malaysia, Algeria, Iraq, Hong Kong, Macau, Libya, Qatar, and Taiwan took part in the competition.
The Pakistani team won the overall championship title with 13 medals in the competition while breaking four world records during the contest. Emma Alam holds 3 of those records:
218 names memorized in 15 minutes
195 dates (fictional) memorized in 5 minutes
410 random words memorized in order in 15 minutes
Emma Alam won two gold medals, three silver medals, and two bronze. Abeerah Ather who ranked 7th in the championship won one gold, two silver medals, and one bronze. Syeda Kisa Zehra who placed 33rd, won one gold and one bronze, while Syed Nabeel Hasan was ranked 41st in the global ranking. The team was trained by the Institute of Human Memory Development International (IHMD) led by master trainer Sania Alam.
The World Memory Championships was founded in 1991 by world-renowned Tony Buzan and Raymond Keene to shine a global spotlight on the incredible power of human memory.
"The one shining exception was the 29th World Memory Championship, which by a miracle of organization and global coordination, was successfully put together by our dedicated team, with the Chinese City of SANYA as its base," Raymond Keene, global president of the World Memory Sports Council, said in his official statement.
He added that the field consisted of an impressive 300 competitors from 16 countries and this extensive field the winner, the world champion from the 29th World Memory Championship, emerged from the Pakistan team, so excellently and expertly trained by Sania Alam.
In addition to winning the overall championship title, the Pakistan team also won 13 medals and broke four world records. Alam won two gold medals in Names & Faces and Random Words, three silver medals in Historic & Future Dates and Binary Digits and Speed Number, and two bronze medals in Abstract Images and Spoken Number.
Source: TechJuice
Read more: SBP's First Quarterly Report Indicate Pakistan's Economic Recovery