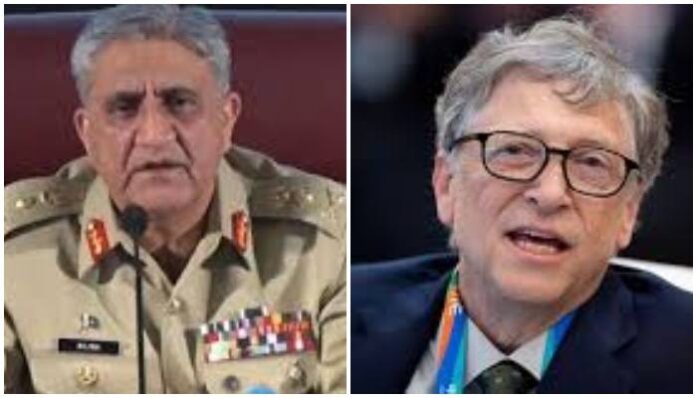 Bill Gates, Co-Chair of the Bill & Melinda Gates Foundation (BMGF), has appreciated the Pakistan Army for supporting anti-polio drive and ensuring proper reach and coverage of polio campaigns, particularly through involvement of community leaders. According to the Inter-Services Public Relations (ISPR), "Mr Gates appreciated Pakistan's Army for supporting national drive and ensuring proper reach and coverage of polio campaigns, particularly through involvement of community leaders."
Bill Gates, COAS has a Telephonic Conversation over Healthcare and Anti-Polio Drive
Bill Gates and Chief of Army Staff (COAS), General Qamar Javed Bajwa, had a telephone conversation on Monday. Matters related to healthcare particularly Pakistan's commitment for comprehensive polio eradication were discussed. COAS appreciated Mr. Bill Gates and his foundation's efforts towards this noble cause and assured him of continued full cooperation for polio free Pakistan.
Earlier, PM Shehbaz also had a telephonic conversation with Bill Gates where matters related to polio eradication were discussed. During the phone call, Bill Gates acknowledged the positive progress of Pakistan related to polio eradication initiatives and reiterated the foundation's continued support to Pakistan for ensuring that no child was at risk of paralysis due to poliovirus.
Read more: PM Shehbaz, Bill Gates Discuss Anti-Polio Campaign Over Telephonic Call
Wild Poliovirus Case
Last month, Pakistan reported a wild Poliovirus case in North Waziristan in a 21-month old boy was confirmed to have contracted the virus. The National Institute of Health, Islamabad has also confirmed that the child from the Mir Ali district, had an onset of paralysis on 18th June and as per preliminary investigations, the child has been paralyzed in the right leg. In 2022, the tally of polio cases in Pakistan ha reached 12, where all of the cases were reported from North Waziristan. While, the district's at high risk of Poliovirus transmission are North Waziristan, South Waziristan, DI Khan, Bannu, Tank and Lakki Marwat.